François Delerue, Cyber Operations and International Law (Cambridge University Press 2020)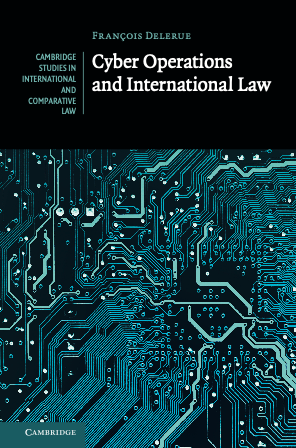 Awarded the 2021 Book Prize of the European Society of International Law (ESIL)
Available on Cambridge University Press, Cambridge Core and Amazon.
Table of contents:
1. Does international law matter in cyberspace?
Part I. Attribution
2. Attribution to a machine or a human: a technical process
3. The question of evidence: from technical to legal attribution
4. Attribution to a state
Part II. The Lawfulness of Cyber Operations
5. Internationally wrongful cyber acts: cyber operations breaching norms of international law
6. The threshold of cyber warfare: from use of cyber force to cyber armed attack
7. Circumstances precluding or attenuating the wrongfulness of unlawful cyber operations
8. Cyber operations and the principle of due diligence
Part III. Remedies against State-Sponsored Cyber Operations
9. State responsibility and the consequences of an internationally wrongful cyber operation
10. Measures of self-help against state-sponsored cyber operations
Conclusion
Abstract:
This book offers a comprehensive analysis of the international law applicable to cyber operations, including a systematic examination of attribution, lawfulness and remedies. It demonstrates the importance of countermeasures as a form of remedies and also shows the limits of international law, highlighting its limits in resolving issues related to cyber operations. There are several situations in which international law leaves the victim State of cyber operations helpless. Two main streams of limits are identified. First, in the case of cyber operations conducted by non-state actors on the behalf of a State, new technologies offer various ways to coordinate cyber operations without a high level of organization. Second, the law of State responsibility offers a range of solutions to respond to cyber operations and seek reparation, but it does not provide an answer in every case and it cannot solve the problem related to technical capabilities of the victim.
Blurbs:
'François Delerue's stimulating and thought-provoking study is a must read for those seeking a fresh look on international law and contemporary challenges. It is a valuable contribution to classical international scholarship, while providing readers with technical background necessary to better understand current legal issues in cyberspace. Its particular strength is a detailed yet practical take on attribution, due diligence and state responsibility with poignant references to resilience and cyber operations.'
Joanna Kulesza, Assistant Professor, Faculty of Law and Administration, University of Lodz, Poland
'Cyber Operations and International law offers an important—and comprehensive—treatment of international law's application to State and State-sponsored operations in cyberspace. Taking readers beyond the well-trodden grounds of armed conflicts, Delerue covers a range of international legal issues, including sovereignty, non-intervention, counter-measures, and human rights. In doing so, he provides an accessible account of the technology and its challenges to the efficacy of international law in regulating global cybersecurity.'
Duncan B. Hollis, Professor of Law, Temple University School of Law
'In a context of enhanced strategic competition between great powers and proliferation of state sponsored cyber attacks that threaten international peace and cyber stability, François Delerue's Book offers a brilliant and insightful contribution to the debates about how international law applies to cyber operations. His sophisticated and thorough analysis of complex legal debates, supported by well-documented examples, is both accessible to non- lawyers and of great value for scholars and practitioners.'
Frederick Douzet,Professor at the French Institute of Geopolitics (Paris 8), director of GEODE
'An important and illuminating contribution to a vital but infrequently explored area of 'cyber hostilities.'
JHH Weiler,Editor-in-Chief, European Journal of International Law
'In line with the Paris Call for trust and security in the cyberspace launched by President Macron, France firmly believes that the application of International Law, including the UN Charter in its entirety, international humanitarian law and customary international law, is and needs to remain the foundation for peace and security in cyberspace. François Delerue's in-depth analysis constitutes an essential intellectual contribution towards building more trust, security and stability in cyberspace.'
Henri Verdier, Ambassador for digital Affairs, French Ministry for Europe and Foreign Affairs